Spanzurati-i sus si scurt
Hang 'em High
Hang 'em High
---
---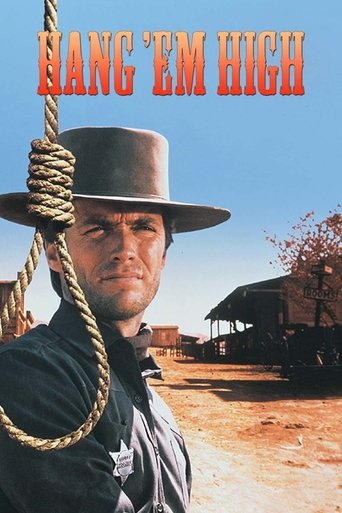 NU
Ted Post
Western
Hang 'Em High
Hang 'em High
Spanzurati-i sus si scurt
Lansat
Actori / Cast
Hang 'em High
---

Clint Eastwood
Inger Stevens
Ed Begley
Pat Hingle
Ben Johnson

Bruce Dern
Vezi toti actorii - all cast
Nota Tmdb:
199
voturi
Nota Imdb:
27,995
voturi
Hang 'em High
Hang 'em High
---
---
---
NU ARE INCA
---
Povestea unui om care, fiind confundat cu altcineva, ajunge sa vada moartea cu ochii si, dupa ce se pune pe picioare, are de gand sa le plateasca celor vinovati cu varf si indesat pentru nedreptatea pe care o indurase. L-au ciuruit cu gloante si l-au lasat sa moara, dar au facut doua greseli fatale: au atacat pe cine nu trebuia si nu au terminat ceea ce incepusera. Povestea incepe in Oklahoma, 1873, cand Jed Cooper (Clint Eastwood), este confundat cu un criminal si cade prada gastii lui Wilson (Ed Begley). Insa, dupa ce Wilson si ai lui parasesc zona, ramane un foarte important detaliu de care acestia nu se ocupasera, caci Jed Cooper era inca in viata. El este salvat de catre Rachel care il ingrijeste pana cand acesta reuseste sa se puna pe picioare. Insetat si indreptatit sa se razbune, acesta pune la cale un plan gandit in cele mai mici detalii si astfel, cei care l-au nedreptatit vor plati fiecare in parte, pana la ultimul.
Ted Post
normal
Hang 'em High
Hang 'em High
Spanzurati-i sus si scurt
MGM/UA Home Entertainment
1800000
en
11.232148
6800000
Hang 'Em High
Lansat
tt0061747
4929
1968
NU ARE
Dona Ana, New Mexico, USA
SUA
NU ARE - NO
7.0
din
27,995
voturi
6.7
din
199
voturi
---
Hang 'em High
Hang 'em High
---
---
NO
Marshall Jed Cooper survives a hanging, vowing revenge on the lynch mob that left him dangling. To carry out his oath for vengeance, he returns to his former job as a lawman. Before long, he's caught up with the nine men on his hit list and starts dispensing his own brand of Wild West justice.
---
NO
NO
Ted Post
normal
Western
Hang 'em High
Hang 'em High
Spanzurati-i sus si scurt
MGM/UA Home Entertainment
1800000
en
11.232148
6800000
Released
Hang 'Em High
tt0061747
4929
1968
YES
Dona Ana, New Mexico, USA
7.0
-
27,995
votes
6.7
-
199
votes
Acest film este creat de: (Production companies)
United Artists
United States of America,
English,
Hängt ihn höher | Austria, A Marca da Forca | Brazil, Hängt ihn höher | Germany, Klyng dem op | Denmark, Cometieron dos errores | Spain, Hirttäkää heidät! | Finland, Pendez-les haut et court | France, Κρεμάστε τους ψηλά | Greece, Akasszátok őket magasra | Hungary, Impiccalo più in alto | Italy, Yatsura o takaku tsuruse | Japan, La marca de la horca | Mexico, Powiescie go wysoko | Poland, À Sombra da Forca | Portugal, Ridica-i in streang | Romania, Häng dom högt | Sweden, Obesite ga brez usmiljenja | Slovenia, La marca de la horca | Venezuela, Hängt ihn höher | West Germany
15-10-2017 10:01:11