Jocul de-a detectivii
Game Night
Game Night
---
---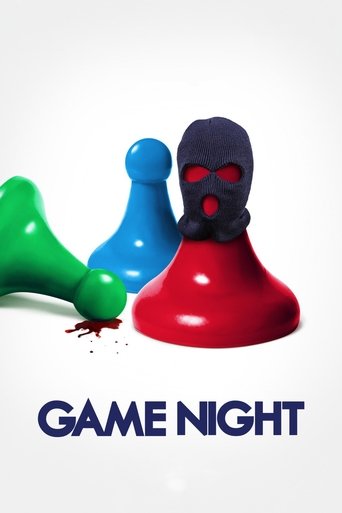 Actori / Cast
Game Night
---
Rachel McAdams
Jason Bateman
Kyle Chandler
Jesse Plemons
Jeffrey Wright
Billy Magnussen
Vezi toti actorii - all cast
---
---
Game Night
Game Night
---
---
---
NU ARE INCA
---
Jason Bateman si Rachel McAdams fac echipa pe marile ecane din 2 martie in comedia Jocul de-a detectivii, regizata de John Francis Daley si Jonathan Goldstein, aflati deja la al doilea proiect dupa comedia de succes Vacanta cu peripetii, din 2015.Max (Bateman) si Annie (McAdams) si-au facut un obicei din a participa saptamanal la jocuri nocturne tematice organizate impreuna cu grupul lor de prieteni. Insa lucrurile devin din amuzante foarte palpitante cand Brooks, fratele lui Max, se gandeste sa organizeze o seara de rezolvare a misterului unei crime, in care sunt implicati pretinsi talhari si agenti federali. Deci faptul ca Brooks este rapit intra in plan, nu? Prin urmare cei sase competitori sunt hotarati sa rezolve cazul si sa castige, iar totul pare foarte amuzant pana cand lucrurile incep sa arate prea mult a realitate.De-a lungul unei nopti haotice, distractia este treptat inlocuita cu panica. Fara reguli, fara directie si fara idee cine mai participa la joc, cursa poate deveni cea mai tare aventura sau... sfarsitul.
02.03.2018
Game Night
Game Night
Jocul de-a detectivii
Warner Bros.
Vertical Entertainment
NU SE STIE
en
9.756839
Post Production
tt2704998
445571
NU ARE
SUA
NU ARE - NO
---
Game Night
Game Night
---
---
NO
A group of friends who meet regularly for game nights find themselves trying to solve a murder mystery.
---
NO
NO
02.03.2018
Game Night
Game Night
Jocul de-a detectivii
Warner Bros.
Vertical Entertainment
en
9.756839
Post Production
tt2704998
445571
Acest film este creat de: (Production companies)
New Line Cinema
Davis Entertainment
Aggregate Films
United States of America,
English,
Noche de juegos | Argentina, A Noite do Jogo | Brazil, Noční hra | Czech Republic, Noć igre | Croatia, Éjszakai játék | Hungary, Zaidimu vakaras | Lithuania, Noche de juegos | Mexico, Wieczór gier | Poland, Ночные игры | Russia, Druzabni vecer | Slovenia
13-02-2018 13:26:47