Downsizing. Mini-oamenii
Downsizing
Downsizing
---
---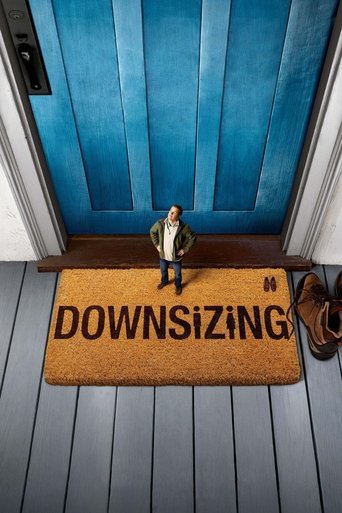 NU
Alexander Payne
SF
Drama
Comedie
Downsizing
Downsizing
Downsizing. Mini-oamenii
12.01.2018
Lansat
Actori / Cast
Downsizing
---
Matt Damon
Christoph Waltz
Hong Chau
Kristen Wiig
Rolf Lassgård
Ingjerd Egeberg
Vezi toti actorii - all cast
Nota Imdb:
1,294
voturi
Downsizing
Downsizing
---
---
---
1 nomination
---
Ce se intampla cand, in incercarea de a gasi o rezolvare la problema suprapopularii planetei, oamenii de stiinta norvegieni descopera o modalitate de a micsora oamenii pana ajung la 13 cm inaltime, omenirea avand la dispozitie 200 de ani pentru a face tranzitia completa la o lume in miniatura. Oamenii isi dau seama cati bani le raman in plus daca aleg sa traiasca in mini-versiunile lor, asa ca, pusi in fata unei promisiuni pentru o viata mai buna, Paul Safranek (Matt Damon) si sotia lui, Audrey (Kristen Wiig) , se hotarasc sa lase in urma existenta stresata din Omaha pentru a se micsora si a se muta intr-o comunitate populata numai de mini-oameni. Dar aceasta alegere va avea consecinte care le vor schimba viata pentru totdeauna, si acestea nu vor fi deloc miniaturale.
Alexander Payne
12.01.2018
Downsizing
Downsizing
Downsizing. Mini-oamenii
Paramount Pictures
Ro Image 2000
NU SE STIE
en
8.238817
Downsizing
Lansat
tt1389072
301337
2017
1 nominalizare
Toronto, Ontario, Canada
SUA
NU ARE - NO
6.3
din
1,294
voturi
---
Downsizing
Downsizing
---
---
1 nomination
"Downsizing" follows a kindly occupational therapist who undergoes a new procedure to be shrunken to four inches tall so that he and his wife can help save the planet and afford a nice lifestyle at the same time.
---
NO
NO
Alexander Payne
12.01.2018
Comedy, Drama, Sci-Fi
Downsizing
Downsizing
Downsizing. Mini-oamenii
Paramount Pictures
Ro Image 2000
en
8.238817
Released
Downsizing
tt1389072
301337
2017
YES
Toronto, Ontario, Canada
6.3
-
1,294
votes
Acest film este creat de: (Production companies)
Paramount Pictures
Ad Hominem Enterprises
Annapurna Pictures
United States of America,
English,
Pequena Grande Vida | Brazil, Kahandamine | Estonia, Una vida a lo grande | Spain, Μικρόκοσμος | Greece, Kicsinyítés | Hungary, Downsizing: Vivere alla grande | Italy, Pomniejszenie | Poland, Pequena Grande Vida | Portugal, Downsizing. Mini-oamenii | Romania, Короче | Russia, Krcenje | Slovenia
30-11-2017 10:42:55